Eye Exams For Kids at Every Age
If you have children, you're well aware of how fast they're growing and developing. Every time you turn around, they've started exploring something new.
Help them discover their world with clear vision; book an appointment with a pediatric optometrist at Birring Eyecare in Mississauga to get a headstart on their eye health.

How Often Should My Child's Eyes Be Examined?
It's never too early to take care of your child's eyes. The Canadian Association of Optometrists has set out the following guidelines for the frequency of children's eye exams:
Birth to 24 months: Infants and toddlers should have their first eye exam between the ages of 6 and 9 months
2 to 5 years: Preschool children need at least one eye exam during this period.
6 to 19 years: School children should undergo an eye exam annually.
Signs Your Little One May Have a Vision Problem
Guarding Your Youngster's Visual Health
It's said that 80% of what children learn in school is presented visually, so keeping up a good eye care regimen is important in setting your child up for success. Along with regular checkups with your eye doctor, there are things you can do to help make sure your child's vision is healthy. Remember that following your optometrist's advice is vital at any age—if your child is prescribed glasses, they need to wear them correctly!
Infants (Birth to 2)
Your baby is beginning to explore their world. Help them reach visual milestones by playing peek-a-boo, using picture books with bright and colourful images, and giving them toys that encourage hand-eye coordination like stacking rings.
During Grade School
The school years put a lot of demands on a kid's vision. Remind them to take breaks when studying or using the computer (going outside for a break is always helpful) and ensure their workspace at home is well lit.
Have them use appropriate eye protection when playing sports like lacrosse or hockey, provide healthy snacks, keep up a good sleep schedule, and check in to make sure they're not struggling with visual tasks at school (like reading and looking at the board.)
Come & See Us
Find us in the Malton neighbourhood's Westwood Square Shopping Centre, 10 minutes north of Pearson International Airport on Goreway Drive between Etude and Morning Star Drive, just off Highway 427 in Mississauga.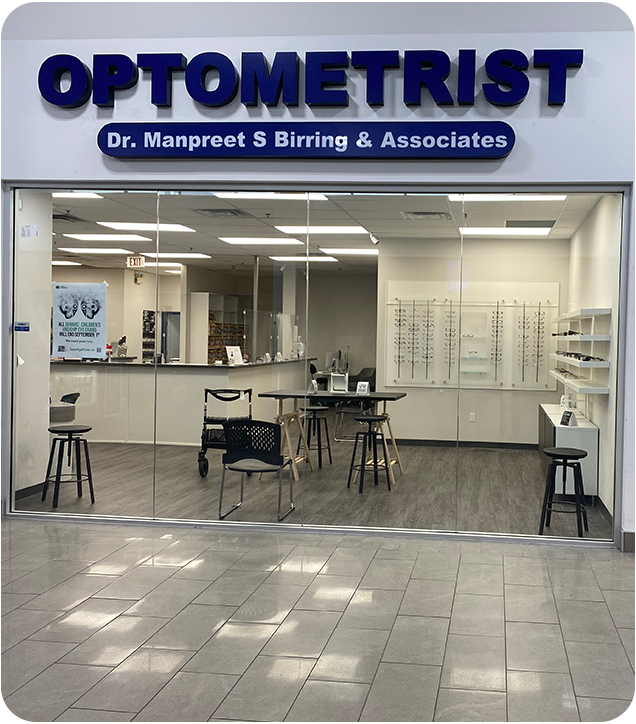 Our Address
46-7205 Goreway Drive

Mississauga

,

ON

L4T2T9
Contact Information
Hours of Operation
Monday

:

11:00 AM- 6:00 PM

Tuesday

:

11:00 AM- 6:00 PM

Wednesday

:

11:00 AM- 6:00 PM

Thursday

:

11:00 AM- 6:00 PM

Friday

:

11:00 AM- 6:00 PM

Saturday

:

11:00 AM – 4:00 PM

Sunday

:

Closed